Last year in Texas there were over 30,000, yes 30,000 wildfires which burned more than 4 Million Acres of land including homes and businesses.  The Austin area bore a significant amount of the destruction due to the density of housing in overgrown, woodland settings.  Just because you live in the city you should not believe you are immune to the dangers of wildfire.  Though many people received a wake-up call last year because of the area fires, many people are probably unaware of the significant risk that still exists here.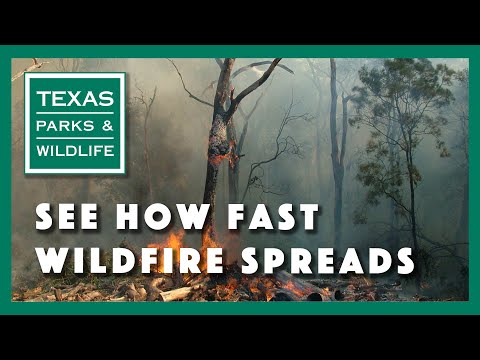 According to the Texas Forest Service people cause 95% of all fires and 85% of those are within 2 miles of an established community.  Though we have received much more rain-fall than last year at this time, the rains that came also caused a lot of high-growth vegetation.  All those pretty wildflowers you saw this spring are already giving way to tall grass and weeds which are going to dry-out in the next few weeks. That dry ground-cover coupled with a lack of rain in the coming months will make conditions all across Texas ripe for more wildfires.  Also contributing to the fire hazard are the millions of trees that are dead or dying from the drought of the last few years.
It is very important to take care of your property to mitigate the chance of a wildfire consuming your home.
Take care with open flames such as barbeque pits, outdoor fireplaces and smoking materials.
Create a defensible space around all buildings.  Clear away trees and brush from your home which could bring flames too close to your structures.
Keep the yard area watered as much as you can to keep it green if possible and mow to a reasonable height.
There is ample evidence to suggest that the potential for wildfire is every bit as great as it was in 2011.  Hopefully, more people are aware of this risk and will take special precautions to minimize the potential for destruction that many suffered last year.
(Willingham Insurance Agency offers Homeowners policies through Chubb Insurance Company.  For qualifying Homeowners through the Chubb "Masterpiece" policies you may be able to sign up for their free, Wildfire Defense program.  Chubb has over 50 firefighting teams that can be dispatched when an area is under threat of wildfire.  While not first responders, these firefighters will bring their trucks in as soon as the local fire department allows helping with containment and protection.  This program can also help mitigate loss by setting up defensible areas around your home and setting up sprinkler systems in the yard and on the structure itself when a wildfire is imminent.  As a last resort, a fire resistance foam may be applied to your home if possible.)